About Me
Hello! I am Taryn, your Butterfingers tutor.
I am a qualified chef and pastry chef with 20 years' experience in the industry. I love baking, cake decorating and generally just enjoy being in the kitchen - creating new and exciting dishes.
I have worked in all different areas of the kitchen, doing hot dishes, working in the cold kitchen, buffet work, pastry kitchen, catering, breakfast and a la carte.
I love working with people of all ages, and it is so rewarding to see others get pleasure and enjoyment in the kitchen too.
Awards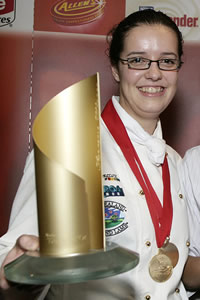 During my studies at Christchurch Polytech (CPIT) I was selected to be part of a team of three who went on to win the National Nestle Toque d'Or competition in Auckland in 2007.
We had to cook 6 servings of a 3 course dinner in 2 1/2 hours - so the pressure was on competing with 15 other teams of Polytech students from around the country. It was a fantastic experience and gave me an eye for detail, and taught me how to cook to perfection.


Press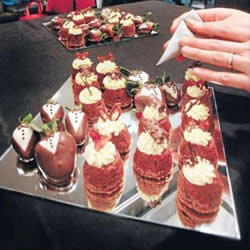 This photo was taken of me working at the Hotel Grand Chancellor, hosting the Canterbury Conferences and Events Expo. My tuxedo strawberries were a hit - as a healthy(ish) option - and of course they looked so smart. The mini sticky date puddings are also one of my signature dishes. Delicious moist soft date pudding with delicate caramel cream.